So, we have a new website…
Posted by Voipfone on November 1, 2020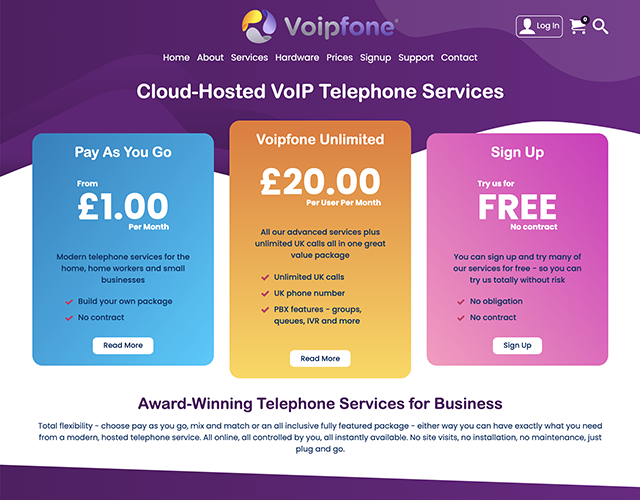 Well we have a new design at least, so far there has been limited change to content; that will be updated once we know that we haven't broken anything and that Google isn't too upset with us.
There are obvious visual and layout changes but one of the main reasons for the changes is to improve how the website performs; it's now faster, works better on mobile devices and the new technologies it employs increase security.
The new design will also allow us to improve navigation and usability. Like many companies that have been around a while developing new products with new technologies our website "just growed" and has become a bit cumbersome. It needs significant changes to how people find their way around it.
To be fair to ourselves it's a complex thing we're trying to do with it; it's not a simple web site. It has to do the usual things like promote our services and sell our stuff like a normal online shop but it's also the gateway to the user interface that controls all the features and functions of our telephone services and is essentially the user manual for how to do it.
All this makes it a bit of a beast to get right and we know that it wasn't particularly easy to find stuff on it. Over the next few months we'll be tackling that along with enabling a bunch of new features and products that we have in the pipeline.
It's the first step that's often the hardest but now we've taken it we can get on with the rest of what we call these days "the journey".