FaceAche
Posted by Voipfone on April 3, 2018

Last week, like many others, I deleted my FaceAche account. I did it because of the latest hoo-hah about data leaks but in truth it hadn't been used for years. I signed up because I need to try new technologies and for a while it was useful but I lost interest after a couple of years. I checked this morning and it's still there – apparently it remains there for 14 days and if I log back in, it won't delete. Thoughtful.
LinkedIn seems to be almost entirely populated by chancers these days but I can see its purpose. My mouse was searching for the mythical delete button but for the moment I've left it be. But not without a look at my security settings. Writing this has made me take another look.
It seems an odd coincidence that as the ArseBook stuff was hitting the headlines, Voipfone, like a huge number of other UK and other European companies, is spending a lot of time and resources in making itself GDPR compliant. At first I was massively resentful of the diverted effort but as we get the work behind us and in the context of the CookedBook scandal it seems to make a lot more sense.
I'm also aware that all these huge companies that we give our data to without a second thought – AboutFace, Amazon, Google, Microsoft, LinkedIn – are all American and are obviously not part of the EU which the GDPR covers. If you're selling from eBay or Amazon, where is the data processed and stored and what is being done with it? All these companies will need to comply fully with GDPR if they wish to continue to operate within Europe and a lot of UK businesses that use their services need to get contractual statements from them to comply themselves. A quick check on Google's website tells us that 'We are working hard to prepare for the EU's General Data Protection Regulation (GDPR)' so they, at least, are not there yet. Voipfone doesn't use any of these companies – we do everything ourselves here in the UK.
And maybe this is a little indelicate but there are a few American VoIP companies over here too. They're mostly marketing operations with their network back in the motherland. So where is their data stored and processed? And what are they doing with it? I don't know but by the 25th May 2018 they'll have to tell us.
The Spy in the Connected Car
Posted by Voipfone on March 1, 2018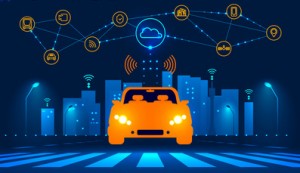 I bought a new car this month; I had to, the sat-nav broke in the old one. But I'm not a car man, I use cars for convenience so I tend to buy very ordinary cars very infrequently and use them until they fall to bits.
But I am interested in how cars are changing with communication's technology and I tend to buy cars with a lot gadgetry in them – even if I never find out how to use the half of them. For a start, I'll only have an automatic these days, why this country prefers manual gear changing is a total mystery to me. And, as noted, a sat-nav is mandatory for me – as is hands free telephony of course – but now adaptive cruise control is also obligatory
If you've never used it, it's almost magic. Your car's radar locks onto the car in front and speeds up and slows down depending on what it's doing. It'll brake to a standstill or speed up to the limit you've pre-set. Essentially the car in front is doing the driving for you. So far I've driven for hundreds of miles without using my feet at all. It's great in stop-start motorway traffic.
This technology is in an otherwise ordinary family car – a VW – so it's hardly bleeding edge but it shows how far along the road (sic) the driverless car has gone.
My car is now also a Wi-Fi point – which is a bit weird – but along with this I was given a Data Plug. It's also being given out for free by VW garages after service and I'm wondering why? Why free, that is?
This plug is a dongle that plugs into your car's computer and records a huge amount of data about how your car is performing and – shudder – where it's been. It connects with your smart phone which connects to the web. What could possibly go wrong? Well the car mechanic at the garage now knows my every movement and my car can now be hacked.
Voipfone is knee deep in GDPR guano at the moment – this subject is possibly a post for another time when I'm not bleeding so badly on it, but because of this I'm wondering about the security of all this data in the Data Plug; this 'free' plug is in exchange for something – I wonder what they're doing with all that data? Did they get your permission and did you know?
Needless to say, I'm not plugging in the plug just yet.